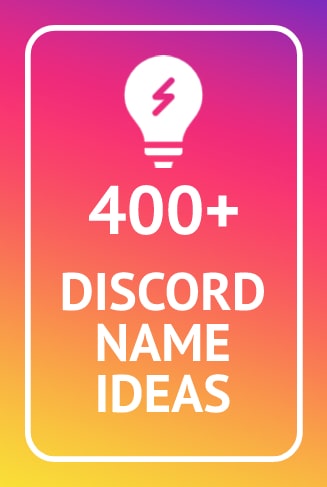 Go to generator
Discord name ideas
Discord is a group-chatting platform that was initially designed for gamers. Soon, it became popular among other communities too. It consists of multiple servers, each with its members, channels, topics and rules. Discord supports text, audio and video communication.
To accentuate your individuality, you should select a catchy username for yourself. Our service will help you to pick a top-notch Discord username for free.
How to Select a Stunning name
An ideal username should reflect your character and life position. It should enable other users to quickly understand which subculture you belong to.
Discord name generator
Our generator features amazing variants for users of any age, gender, tastes and lifestyle. You'll never need to pay us anything! Just click and choose good ideas.
Lists of names:
Discord Anime Usernames
If you opt for an anime username, it should be easy for you to find new friends with similar interests.
Cute Discord Names
Pick a cute name if you enjoy spreading positive vibes and want other users to like you at first sight.
Creative Discord Names
Gamers, streamers and artistic personalities often want weird usernames for themselves. To make your name even more eccentric, consider adding an emoji to it.
Discord Names for Girls
Many cool usernames are equally suitable for boys and girls. If you pick a distinctly female name, others won't ask you who you are.
Discord Names for Boys
Many names from our generator are unisex. But if you want a 100% male one, you'll be able to find it effortlessly.
Funny Discord Names
People will love you if you have a good sense of humor!
How to Create a Blank Name
When your profile is not showing your username, others might think you're offline. To passively explore the servers without being seen, you should add a special Unicode character to your name. Just copy and past this line "
ㅤㅤ
"
Look 50 cool name ideas on video
Submit your ideas