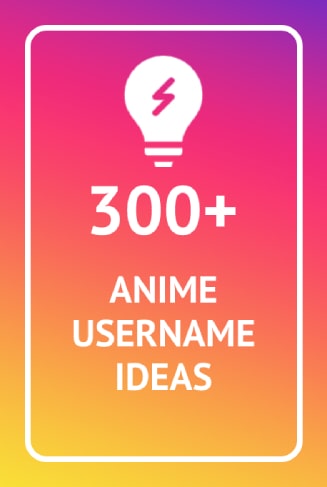 Anime username ideas
All kind of people from all over the world adore anime! If you like it too, you might want to choose an anime-style username for your online persona.
On this page, you will find a list of names that you can borrow for free. You may use them for Instagram, Discord, TikTok, Roblox, Minecraft, Xbox games and so on. An anime username should enable you to make many new friends. Let everyone know what you like!
Also, you can use these names for your stories, cartoons and so on.
Aesthetic Anime Usernames
The usernames that we offer should come in handy for fans of any anime subgenre. You can name yourself after your favorite character. Or, you can use our variants as a source of inspiration and create unique usernames from scratch.
Cute Username Ideas for Anime
An anime gamertag will sound melodic and look elegant on the screen. To make the most of it, you might pick an intricate font for it.
Funny Anime Usernames
Let other people smile when they see your anime name! Also, they will be likely to remember a funny option better than a standard name.
Cool Anime Usernames for Guys
Sometimes, it might be tricky to tell male anime names from their female counterparts. Our service will help you to make the right choice.
Good Anime Usernames for Female
How does your anime avatar look? Is she skinny, does she have huge eyes? Is her hair dark, blond or pink? We can suggest ideas for any type of appearance.
Look 50 name ideas on video
Submit your ideas